Talk
Amruta Patil | Work and Creative Journey 2019
Amruta Patil | Writer, Painter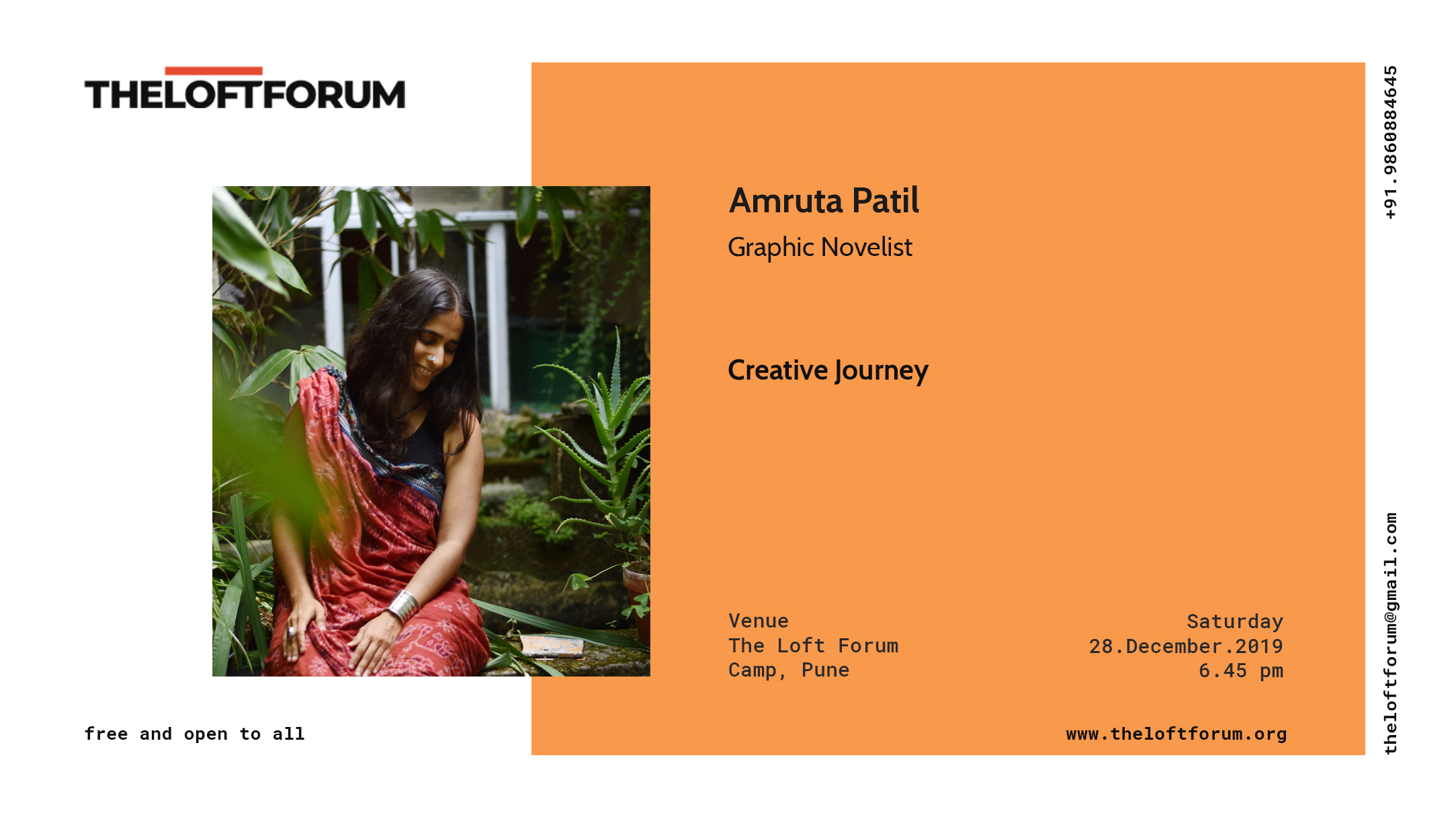 Talk: Amruta Patil: Writer, Painter
We are delighted to invite Amruta Patil to share with us her excitement with the form of the graphic novel. Lay Amruta Patil's three graphic novels next to each other - Kari, Adi Parva: Churning of the Ocean and Sauptik: Blood and Flowers. And look. And as you drink in the beauty of each book, note a small fact – there is no visual repetition. Certainly some themes connect. Outliers drive the stories, shifting the view, the spotlight, the perspectives, the enquiry. In the first book, Kari is the lesbian protagonist. Adi Parva is narrated by the celestial river Ganga; Sauptik, by Ashwathhama.
But this is only one layer – visually, the experience is entirely different, book to book. This, says Amruta, is a conscious choice. How do visual and text come together? What keeps quiet? How do the frame, colours, mood, sense of time get decided? How do references and subtle jokes get embedded? Taking us on the journey between her first graphic novel Kari - which she describes as an "awkward fit of text and images" – to her newest book with Devdutt Pattanaik, Aranyaka: Book of the Forest. Join us for a deep dive into an artist's world of offering stories through graphic novels.
Talk Amruta Patil: Writer, Painter
Date Saturday, 28th December, 2019
Time 6.45 pm
Venue The Loft Forum
Writer-painter Amruta Patil is the author of graphic novels Kari (2008), the Parva duology – Adi Parva: Churning of the Ocean (2012) and Sauptik: Blood and Flowers (2016) – and Aranyaka: Book of the Forest (2019), a creative collaboration between Patil and mythologist Devdutt Pattanaik. In 2017, Patil received a Nari Shakti Puraskar from the President of India for "unusual work that breaks boundaries" in art and literature.