Talk
James Wales: Artist & Antiquarian in the time of Peshwa Sawai Madhavrao
Uday S. Kulkarni | Historian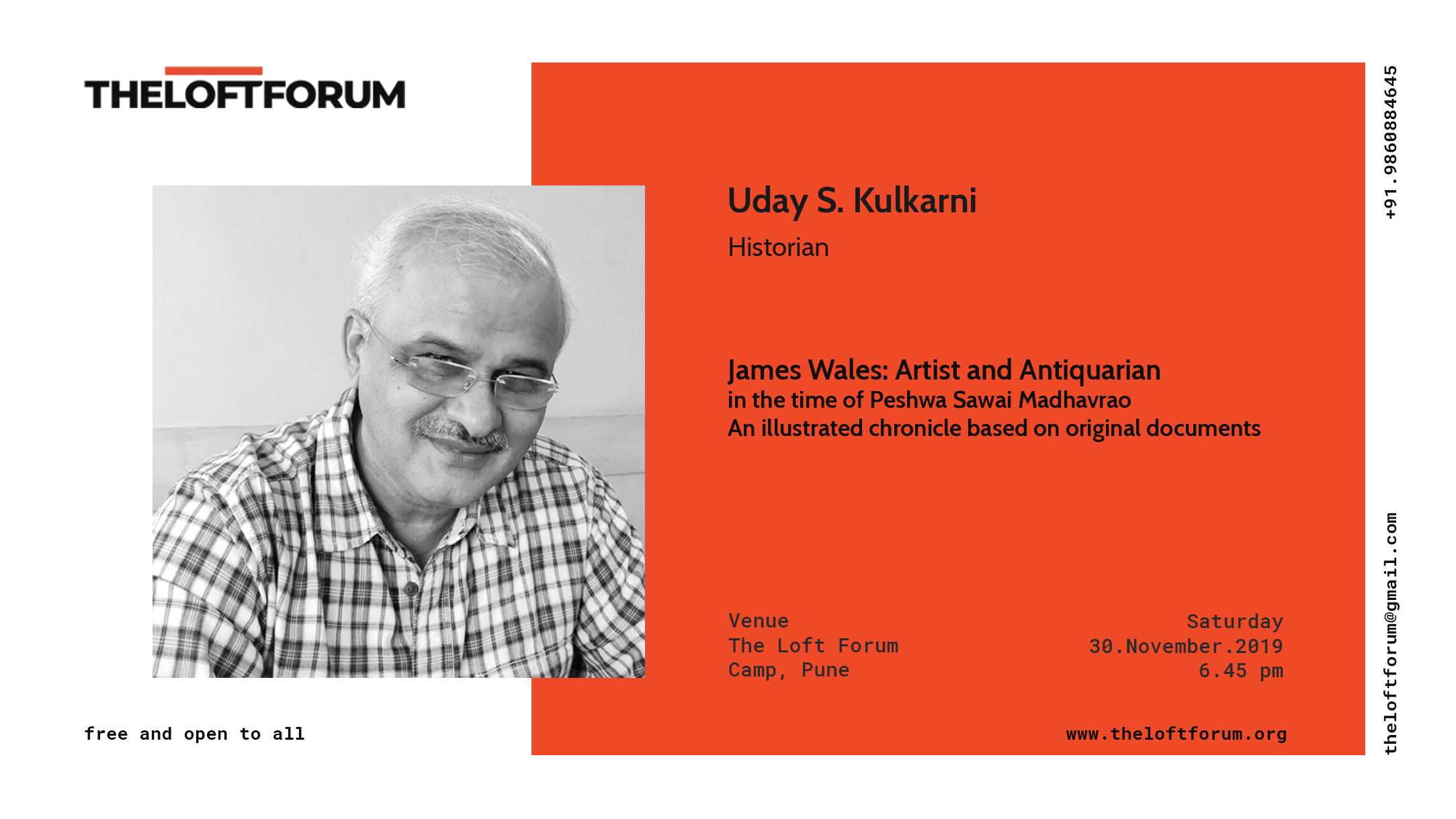 Talk: Uday S. Kulkarni, Historian
James Wales: Artist and Antiquarian in the time of Peshwa Sawai Madhavrao
An illustrated chronicle based on original documents
James Wales came to India in the last decade of the eighteenth century as an artist, and developed a passion for the antiques of India. His stay in this late medieval period, was marked by painting for the nobility of the day and exploration of ancient caves of the country, of which he left copious records and pictures. He jotted down his observations of the nobility, life in the cities and villages, memoranda of travel in India, 'horrid' social customs, temples and their deities, festivals and forms of entertainment. Together with his illustrations, they are a rich source of that era. It was not long after that India came under British rule, and changed it for ever. This book, which is based on James Wales's journals and pictures, allows us to enter this bygone era and witness late eighteenth century India, through the eyes of an observant artist and antiquarian. James Wales lived the last four years of his life in India and died after a short illness in 1795. He was not destined to publish his work. Two hundred years later, it has finally seen the light of day.
You can order the book here.
Dr. Uday S. Kulkarni is an alumnus of the Armed Forces Medical College at Pune, and did his post-graduation in Surgery from Mumbai University. He served in the Indian Navy. After his retirement, he obtained a degree in Communication and Journalism from Pune University. He continues to practise Surgery in Pune, where he resides with his family. In the last decade, Dr. Kulkarni has authored 'Solstice at Panipat: 14 January 1761 – An Authentic Account of the Panipat Campaign' and 'The Era of Bajirao', and edited and translated 'Bakhar of Panipat' with the late historian Ninad Bedekar. His book 'Solstice at Panipat' has been translated into Marathi and won an award from the Maharashtra Granthottejak Sabha. He has contributed to several publications online as well as in print. His new book on James Wales, a Scot who lived in western India for four years promises to take the reader on a voyage into late eighteenth century India through the eyes of James Wales. Further books on eighteenth century India are planned and will be published in the coming years.