Storytelling
JASHN-E-QALAM | Solo Performances of Short Stories
Shashwita Sharma & KC Shankar | Storyteller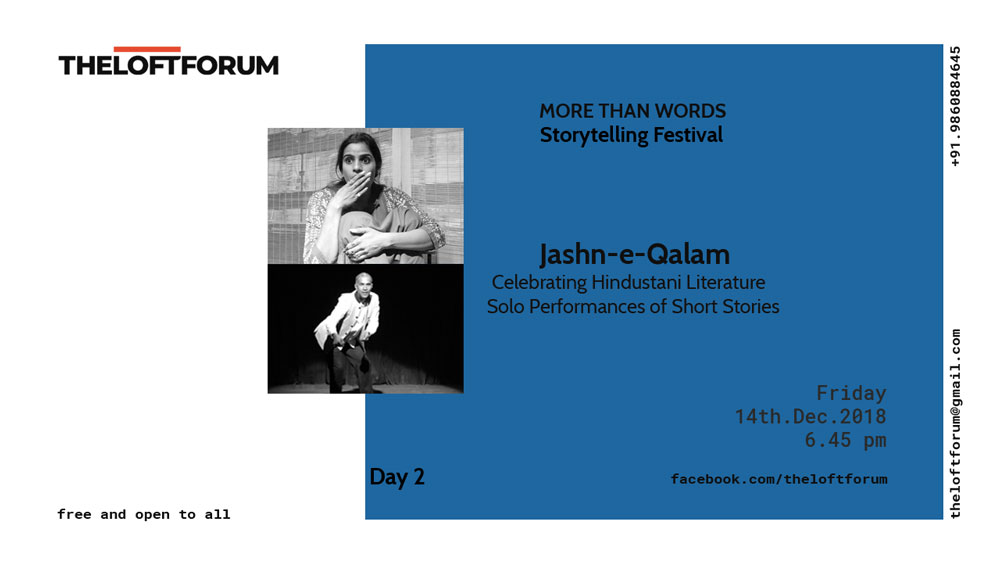 JASHN-E-QALAM
Celebrating Hindustani Literature | Solo Performances of Short Stories
Ismat Chughtai | CHUIMUI | Shashwita Sharma
On a train, journeying with precious cargo within herself, she comes to realise her place in the present, through her past, with an eye on the future. How different freedom looks from within & without!
Patras Bokhari | MARHOOM KI YAAD MEIN | KC Shankar
Why have Enemies when you can have Friends? Ride this roller-coaster of laughs that delves into the strange connections between friendship and honesty, humour and pain, comedy and tragedy.
About the Writers
Ismat Chughtai (21 July 1915 - 25 October 1991), one of India's most accomplished fiction writers, epitomised the 20th-century women writers of Urdu: enlightened, bold, iconoclastic, progressive and feminist. Chughtai's flowing and spontaneous style, occasionally peppered with satirical or witty remarks, makes reading a delight.
Patras Bokhari (1 October 1898 – 5 December 1958) ranks among the most outstanding writers of Humur in Urdu. He graduated from Cambridge University, served as the principal of GC University, was chosen as Director General of All India Radio and was appointed as the first Permanent Representative of Pakistan to the United Nations.
About the Group
Jashn-E-Qalam is a collective of professional Stage & Screen Actors, who celebrate the beauty & brilliance of Hindustani Literature with Solo Performances of Short Stories; at theatres, cafés, pubs, academic institutions, offices & homes. Devoid of any sets, props or costume; they wield the power of the voice & body to communicate; transporting the listener into the magical world of imagination. The audience completes this dialogue by sharing personal responses and feelings thus by collectively discovering the truth of multiple perspectives & realities. They have also partnered with BMS Jukebox, Storytel & Saregama to create Digital Audio Stories.