Talk
The Ivory Throne + Rebel Sultans
Manu S Pillai | Historian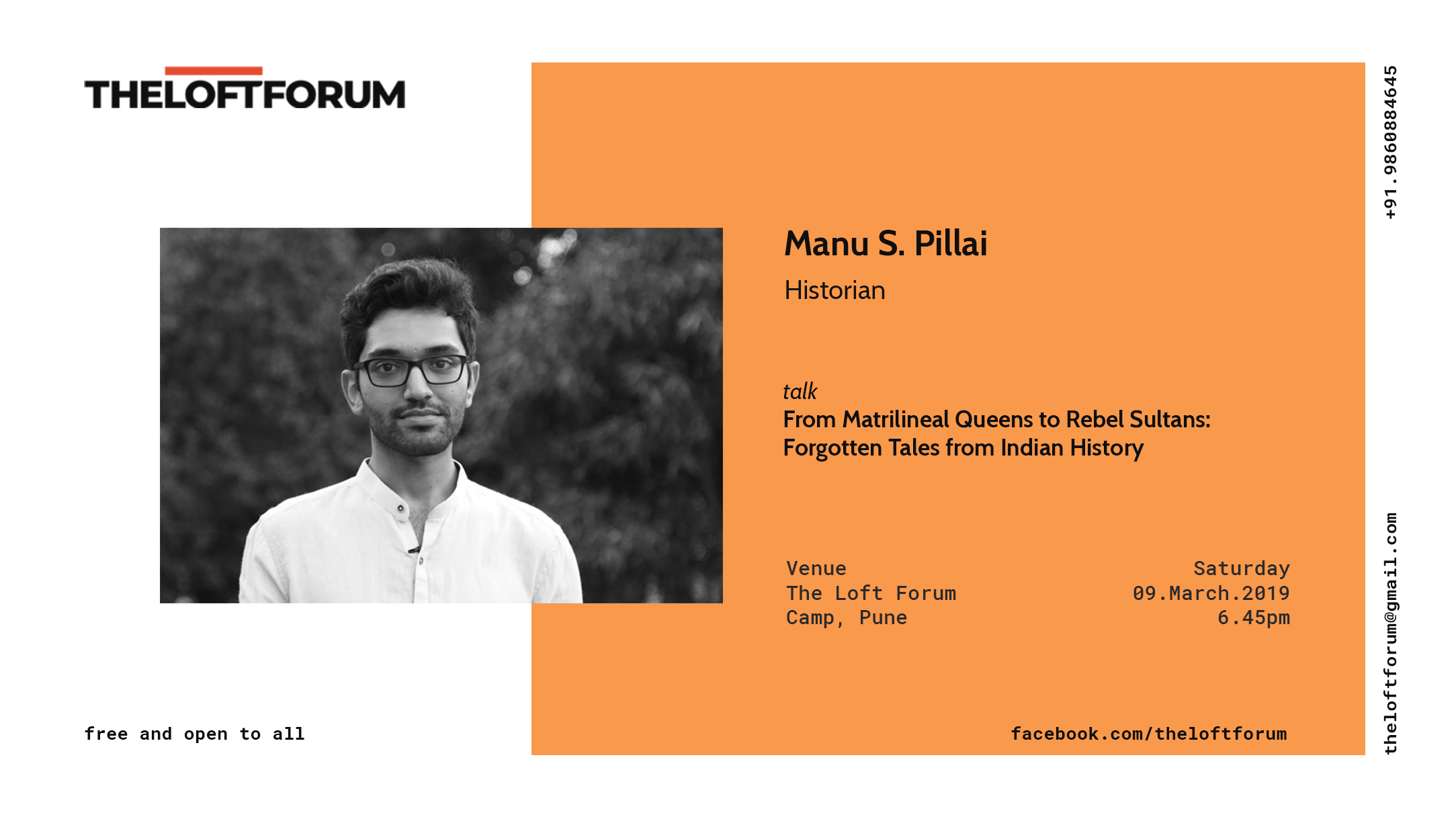 Talk . Manu S. Pillai . Historian
In the battle between grand narratives and competing chronologies, there are many tales in Indian history that languish forgotten. There are stories of Brahmins who became Muslim Sultans, and Sultans who styled themselves sons of Hindu gods. There are riveting tales of matrilineal queens, whose ancestors signed trade treaties and led troops into war, and there are gripping records of furious intrigues. The Raj was not merely a story that pitched imperialist against nationalist–it was also the story of India's princely states, which formed a wholly different, but no less fascinating, universe. Reduced to footnotes, or moved to the margins of the mainstream, these are rich and remarkable chapters of our past, only lately coming to light and finding a place in the popular imagination.
Manu S Pillai, author of The Ivory Throne (2015) and Rebel Sultans (2018), and winner of the Sahitya Akademi Yuva Puraskar (2017) joins us on March 9 to explore some of these stories, and to tell many such tales. Together we will celebrate Indian history for the palimpsest that it is, and remind ourselves that the past is not a sequence of black and white, but a mosaic of colours and infinite historical riches.
Talk: From Matrilineal Queens to Rebel Sultans: Forgotten Tales from Indian History
Manu S. Pillai is the author of the award-winning The Ivory Throne: Chronicles of the House of Travancore (HarperCollins India, 2015), and Rebel Sultans: The Deccan from Khilji to Shivaji (Juggernaut, 2018). Formerly Chief of Staff to Dr Shashi Tharoor MP, he has in the past worked at the House of Lords in Britain, with Lord Karan Bilimoria CBE DL, and with the BBC on their Incarnations history series. Written over six years and researched in three continents, Manu's first book, The Ivory Throne won the 2016 Tata Prize for best first work of non-fiction and the 2017 Sahitya Akademi Yuva Puraskar. Manu is also text contributor to Serena Chopra's Bhutan Echoes (Tasveer, 2016), and writes a weekly column for Mint Lounge. His other writings have appeared in The Hindu, Open_Magazine, the _Times of India, Hindustan Times, and other publications.
Manu is an alumnus of Fergusson College, Pune, and is currently enrolled as a PhD candidate at King's College London. Read more about Manu on his website and follow him on Twitter.