Talk
When Empowerment Fails: Gendered Work in India's Polarized Service Sector
Smitha Radhakrishnan | Sociologist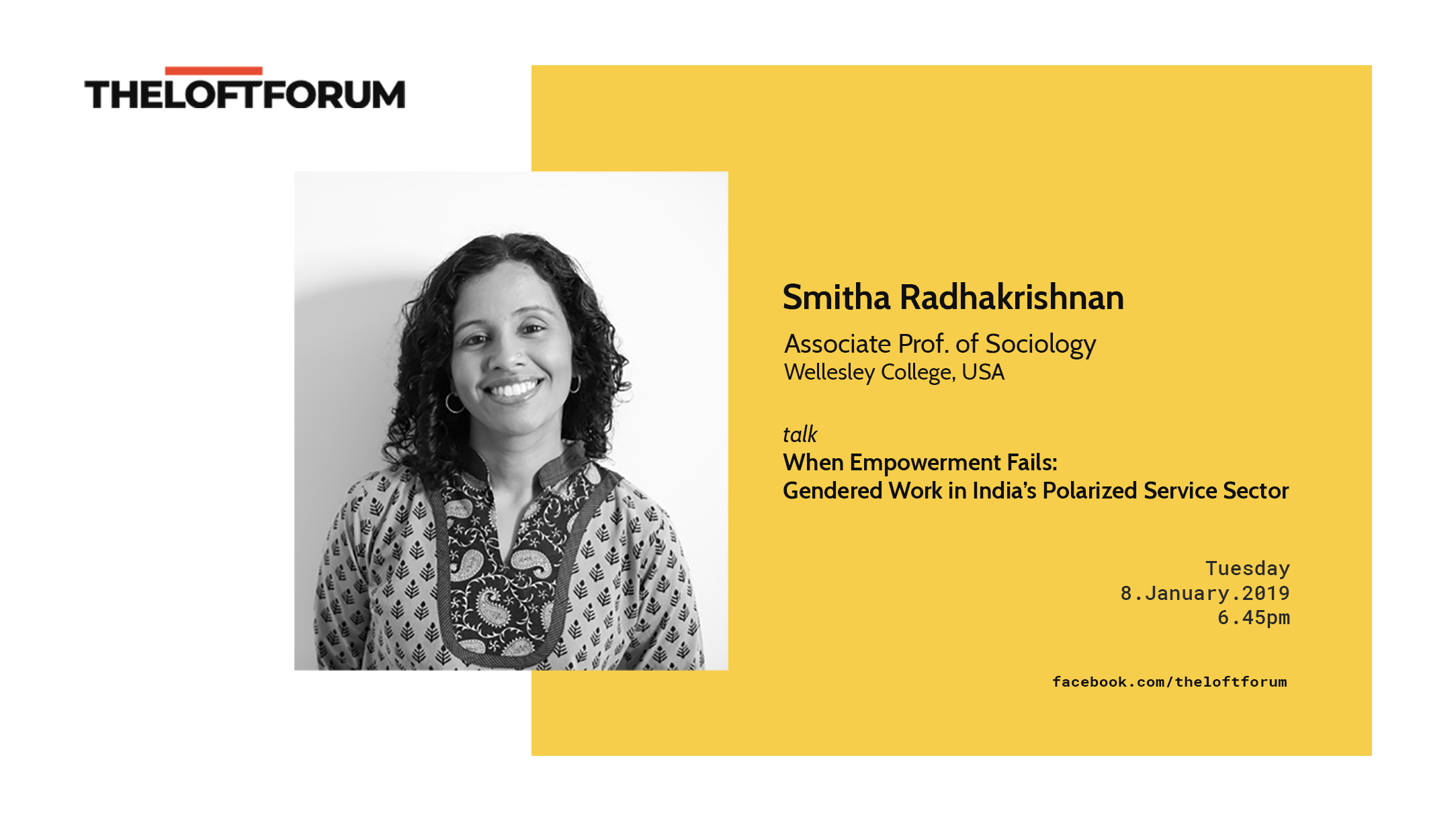 Smitha Radhakrishnan | Sociologist
8th January, 2019. 6.45 pm
Talk | When Empowerment Fails: Gendered Work in India's Polarized Service Sector
Over the past three decades, NGOs, state governments, social movements, and corporations have all pursued the cause of women's empowerment with arguably dramatic impacts on women's visibility and participation in every aspect of Indian society. But how can we understand the troubling decline in women's labor force participation during the same period? Dr. Smitha Radhakrishnan argues that both the IT and microfinance industries, which both seem to symbolize women's empowerment, similarly devalue women's labor and prioritize their roles as mothers over their engagement in the workplace, albeit through different mechanisms. Drawing on extensive research conducted over 15 years in the Indian tech industry and the Indian microfinance industries respectively, this talk connects the structure of the neoliberal service economy, gender policies within these industries, and the everyday experiences of women tech workers and microfinance clients. By understanding the structural, organizational and personal contexts in which women work, we might rethink how we understand women's work and empowerment in contemporary India.
Smitha Radhakrishnan is Associate Professor of Sociology and the Luella LaMer Associate Professor of Women's Studies at Wellesley College in Massachusetts, USA.
As a feminist ethnographer of gender and globalization, Smitha's strives for her scholarship to illuminate how the local and the global reflect and challenge one another. In her teaching, she aims for her students to ascertain that complex, dazzling set of dynamic interconnections. In the two major research projects that have defined her scholarship so far, she has examined the institutional contexts of work, finance, and international development, in the geographical contexts of urban India, the U.S., and South Africa, always with a focus on individual subjectivities and experiences. As a result of these engagements, both her research and teaching engage the interconnected legacies of colonialism and slavery. She highlights how these histories are often re-inscribed through contemporary forms of inequality.